Kent go top of Division Two as Leicestershire race to victory over Derbyshire
Close of play county cricket roundup
Middlesex lost eight quick wickets as Kent went top of Division Two with a victory by 342 runs at Canterbury.
Harry Podmore took a career-best six for 36 against his former club and Grant Stewart two more wickets as the visitors were bowled out cheaply for the second time in the match. The top score belonged to the No 11 batsman, Tim Murtagh, last out for 40. The result means Kent get an extra day of rest before their Royal London Cup final against Hampshire on Saturday.
Mohammad Abbas was the inspiration at the County Ground, taking six for 54 as Derbyshire were bowled out for 184 in their second innings. Leicestershire raced to victory with the loss of four wickets.
Surrey made a flying start to their second-innings run chase at Scarborough. Needing 228 to win they were 89 for no wicket at stumps, with a second fifty for Rory Burns. Thirteen wickets had fallen in the day; Ollie Pope was left stranded on 69 as Surrey added 48 to the overnight score, Ben Coad finishing with five for 53. Yorkshire were then all out for 152 with Morne Morkel taking five for 39. Steven Patterson was top scorer with 25 not out.
At Old Trafford, on a super pitch, the game meandered as Lancashire amassed 411, 40 behind Hampshire's first-innings score. Alex Davies made his first Championship century of the year in a partnership of 138 with the acting captain, Dane Vilas, out for a meaty 134. Hampshire were 66 for two at the close, a lead of 106.
At Chelmsford Somerset avoided the follow-on against Essex, who were two for 17 at stumps and have a lead of 127. At Trent Bridge Nottinghamshire did not enforce the follow-on against Worcestershire after a hot day in the field. They later set Worcester 461, who were 43 for no loss at stumps.
Glamorgan are in trouble, losing two wickets just before the close to Seekkuge Prasanna, including the in-touch Usman Khawaja for 38. They finished on 121 for four, needing a further 313 to win. Northamptonshire had declared on 406 for nine, with seventies for Luke Procter, Ricardo Vasconcelos and Steven Crook, and Ben Duckett making 133. Derbyshire have signed the New Zealand fast bowler Lockie Ferguson for the T20 Blast.
Close of play scores
Division One
Yorkshire 342 & 152, Surrey 267 & 89-0
Lancashire 411, Hampshire 451 & 66-2
Nottinghamshire 499-9 dec & 249-4 dec, Worcestershire 287 & 17-0 (Latest, D/N match)
Essex 517-5 dec, Somerset 385-8 (Latest, D/N match)
Division Two
Derbyshire 245 & 184 beat Leicestershire 297 & 133-4 by six wickets
Kent 241 & 281 beat Middlesex 56 & 124 by 342 runs
Glamorgan 254 & 121-4, Northamptonshire 281 & 406-9
Durham 297, Warwickshire 424, 88-3 (Latest, D/N match)
I'm going to have to write up now so will go a bit quiet but keeping a spectacle on Sophia Gardens where young Khawaja is 22 not out. 5-4s. Usman, oh Usman, beware the pink (garbage Tanya amend ) red ball .
Notts lose a couple more wickets at Trent Bridge, 124-3 (pleasingly using the numerals 1234, apologies); Somerset slow-going at Chelmsford: 280/4, no make that 5 – Hildreth lbw for 78.
And meanwhile a lovely note from Jack Shantry
The German sense of humour at its finest
Surrey one eleventh of the way there: 20/0.
And this for Middlesex fans who wish to wallow.
Lubbly-jubbly drive for 4 by Vince – 16 runs, all in boundaries. Watch him and it is just inexplicable why he, well, you know. A crying shame.
Nathan Rimmington out but Durham have avoided the follow-on thanks to his partnership of 54 with Gareth Harte.
More on Henry Brookes and Kohli out for a duck in Dublin!
An early wicket at Grace Road too 22/1 – 111 needed. A game to keep an eye on.
An early wicket too at Sophia Gardens – Selman for 15; Glamorgan 46/1. Jack Murphy performing with confident aplomb for his 29 – 6 fours to date.
An early wicket at OT! Adams lbw Onions, not moving his feet, for 4.
Derbyshire: Alas, Abbas
Yorkshire all out 152. Surrey need 228 to win. That's the sound of a lip-smacking schmwack of anticipation. Get thee to Scarborough!
Ravi Bopara makes the breakthrough for Essex. Tom Abell out for 41. Somerset 242/4.
Derbyshire all out for 184 – an innings of 7 single-figure scores Leicestershire need 133 to win. Mohammad Abbas 6-54.
South Korea 2- Germany 0! Anyway, Derbyshire have lost 2 more wickets since tea; and Glamorgan have made a good start 27/0
And in other news, Korea have scored! No, its been over-ruled! Germany have five minutes to get a goal to save their World Cup .
And that's out too – next ball. Bailey for 6. Lancashire 411 all out. Hampshire have a first-innings lead of 40.
Clark run-out 82. Lancs 411-9. Smashing little innings.
Will asks the question … (Morkel 5-34 and counting)
Report from young Ollie Thorpe, who wandered onto the OT pitch at tea, that there is a big patch of rough outside the left-hander's off stump.
Lunchtime scores pink ball: Div 2
Sophia Gardens: Glamorgan 254 v Northants 281 and 406-8. Northants lead by 433.
The County Ground. Derbyshire 245 and148-7 v Leicestershire 297. Derbyshire lead by 96
The Riverside: Durham 227-7 (Steel 51; Hannon-Dalby 4-50) v Warwickshrie 424. Durham trail by 197
Result pink ball
Kent 214 and 281 beat Middlesex 56 and 124 by 342 runs
Teatime scores red ball
Old Trafford: Lancashire 394-8 (Davies 115 , Vilas 134, Clark not out 71 ) v Hampshire 451.
Scarborough: Yorkshire 342 and 113-7 (Tattersall 23 not out; Morkel 4-33) v Surrey 267 (Pope 69 not out; Coad 5-53). Yorkshire lead by 188
Sophia Gardens: Glamorgan 254 v Northamptonshire 281 and 406-9dec (Duckett 133, Procter 70, Vasconcelos 79, Crook 73) Glamorgan need 434 to win.
Lunchtime scores pink ball: Div 1
Trent Bridge: Nottinghamshire 499-9 dec and 44-1 v Worcestershire 287 (Whiteley 76; Gurney 4-97). Nottinghamshire lead by 256 runs.
Chelmsford: Essex 517-5dec v Somerset 232-3 (Byrom 54, Hildreth 53 not out)
WICKET! Parry b Berg 6. Lancashire 394/8. No batting point. Tea here at OT, tea scores to follow but Kent have beaten Middlesex by 342 runs.
Blazes, Notts are 22/1 in their second innings, I'm sure I only looked away for a moment. Nash back down to earth, out for 1. Worcestershire all out 287.
Lilley falls and Lancashire have 13 balls to get 15 runs and the extra batting point.
Hopps on Leicester esp these two paragraphs
"Finally, consider Leicestershire, their hopes of their first three-in-a-row since their Championship-winning season of 1998 lost. Ask many an opposition batsman and the soundtrack of that Championship-winning season was Paul Nixon yapping away behind the stumps.
Now Nixon has reappeared as coach, the wins are coming again and the desire to learn was summed up by one young professional stopping Malan for a technical chat as he headed to his car. Meanwhile, Division One counties are swarming around Nixon's most high-profile players. The least he deserves if he has to rebuild again is that English cricket recognises – without riders, and beginning with the top, and Andrew Strauss – his county's contribution to English cricket."
And with an impressive sprint to complete a two, the 50 partnership comes up between Clark and whackaday Lilley (5×4 in his 25) in 54 balls. Lancs 379 for 6. Al Davies said last night that he expected the pitch to break up – no sign of that yet.
Depressing. Ryan Patel reports racial abuse by idiot at Scarborough.
Resignation in a single tweet
Yikes, you're right BTL, Harry Podmore had slipped the radar. Currently 6-36 off 14 overs. Here's a pictures to make up. I didn't realise that Kent were his fourth county.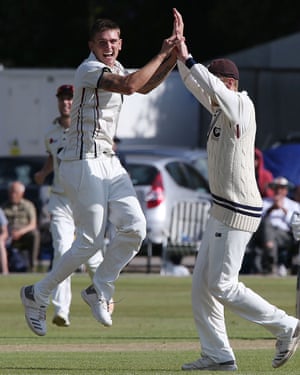 Lilley dropped, for the second time in about two overs. Lancs seem to fancy this extra batting point.
Ricardo Vasconcelos (59) and Steven Crook (45) pile on the agony for Glamorgan. Though I quite fancy Khawaja and Carlson to slide on the slippers of steadfastness for tomorrow's show-down.
And with a straight drive that's 50 for Jordan Clark, eight fours, one six. An important little innings this.
Whiteley gone for 76 and Worcestershire 287/9, still trail Notts by 212.
Another Lancashire WICKET – and reward for Rayner at last. Lamb lbw for 3. Lancashire 327-6. I'm saying nothing.
And from Palf (thank you) the picture of Onions in his kecks from yesterday morning.
Yorkies, come on! 70/6. Can Tattersall and Bresnan do it again? (No)
OMG – the doughnuts are back.
https://www.theguardian.com/uk/sport/rss