UNWENGERLIKE BEHAVIOUR
Considering the vast amounts of money so many people pay to spend their leisure time at football matches, The Fiver struggles to understand why so many of them seem to hate being at them. There are infinitely cheaper ways of reducing oneself to the state of angry, snarling, mouth-foaming maniac over the course of two hours, as anyone who has ever been put on hold by [insert pertinent energy/airline/mobile/insurance company name here] will readily testify. So on a fairly pointless final day of the league season that had about it an air of "School's Out", The Fiver's c0ckles were warmed by almost unprecedented scenes at Huddersfield, where a Premier League football match was staged and almost every single person present seemed deliriously happy.
Terriers fans were happy, because their club is staying in the Premier League, having pulled off the admittedly not-quite-as-impressive-when-you-look-at-it feat of not being as rubbish as Swansea, Stoke and West Brom. Arsenal fans were happy because they're finally getting rid of Arsène Wenger, who in the course of 22 years at the club brought them unprecedented amounts of silverware, but whose most recent triumph at the club involved successfully zipping up his padded overcoat. Wenger was happy, because he would no longer have to contend with the abuse and cat-calls of various ingrates, many of whom have recently been tying themselves in knots in an effort to point out that wishing somebody well for the future having spent three years verbally abusing him in the nastiest possible terms does not make one a hypocrite. And finally, local light aircraft pilots were happy as there were so many planes trailing banners that the sky over the stadium resembled a scene from Dunkirk.
In other unprecedented scenes, Wenger engaged in much unWengerlike behaviour: milking applause from all four sides of the ground, bowing with a flourish and gambolling across the pitch and down the tunnel, giving it a McCartney-esque two-thumbs aloft for the last time as Arsenal manager. "I should have announced every week I retire," he said. "People are so nice since I said that. I think what will remain is the formidable human aspect of the last 22 years – that is special and I will cherish that. I had fantastic human experiences at the club, above the results, it was a human adventure." On Sunday Wenger found himself drenched in the milk of universal human kindness. It was uncharacteristically warm, gloopy, civilised behaviour unbecoming of a football match and The Fiver didn't like it.
LIVE ON BIG WEBSITE
Join Jacob Steinberg from 7.45pm BST for hot MBM coverage of Fulham 2-2 Derby County (agg: 2-3).
QUOTE OF THE DAY
"Hopeless. We were training for cakes and Irn-Bru every day when we needed to be preparing for big games in the Premiership … His track record wasn't great. He had a couple of relegations under his belt. But I don't want to bad-mouth him too much" – Ross County midfielder Michael Gardyne fails pretty substantially, as he describes Owen Coyle after the club's Scottish Premiership relegation.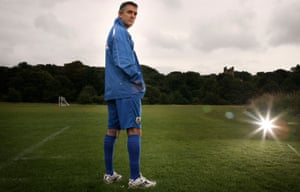 RECOMMENDED LISTENING
Football Weekly will be in this general direction.
THE FIVEЯ
Yes, it's our not-singing, not-dancing World Cup Fiver. Out every Thursday lunchtime BST, here's the latest edition, on VAR.
SUPPORT THE GUARDIAN
Producing the Guardian's thoughtful, in-depth journalism – the stuff not normally found in this email, obviously – is expensive, but supporting us isn't. If you value our journalism, please support us by making a one-off or recurring contribution.
FIVER LETTERS
"Now that Ailsa from Home and Away has failed in the attempt to get two sides relegated from the Premier League in a single season, I think it's only fair to turn attention towards Phil Brown's achievements at an entirely different end of the spectrum. Kudos to him for stringing together a series of results to safely steer two clubs away from the play-offs. At Southend, he was sacked after a mid-season run of one win in 10; had we had the foresight to get rid just two games earlier then his successor, Chris Powell, would almost certainly have got the same squad into the League One top six. Dropping down a division, Phil was brought in by a Swindon side on the cusp of the play-offs but his two wins in 10 meant they avoided a highly stressful climax. Understandably, Phil has been rewarded by Swindon with a new contract so I guess he can relax in the sun this summer and reflect on two jobs [not] well done" – Bryan Matthews.
"In these saddest of times for Stoke City, perhaps the management team can learn from a local 13-year-old, who felt a need and went shopping on the internet. Surely there's a striker listed out there somewhere" – Paul Benveniste.
Send your letters to the.boss@theguardian.com. And if you've nothing better to do you can also tweet The Fiver. Today's winner of our prizeless letter o'the day is … Bryan Matthews.
THE RECAP
Get the best of Big Website's coverage sent direct to your inbox every Friday lunchtime (GMT). Has the added bonus of being on time. Sign up here.
BITS AND BOBS
CASH CASH CASH! NOW NOW NOW! That's how we imagine Mauricio Pochettino's meeting with Daniel Levy will start, the Tottenham manager is apparently insistent he wants extra bunce or he's going to load himself into the Do One cannon and fire himself somewhere less parsimonious.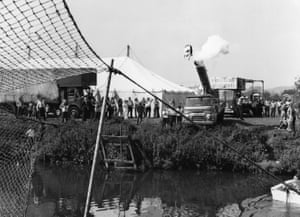 For some mysterious reason, it sounds like West Ham fans aren't happy about being called "keyboard warriors and malcontents" by the club's vice-chair. As such, its been suggested Karren Brady might want to give her Sun column the elbow.
The season is over so the more important business of transfers can now commence and first off the rank is Pablo Maffeo, politely invited by Manchester City to journey in the direction of Stuttgart.
Ailsa fancies sticking around at Southampton, but will they fancy that? "The club will make a quick decision one way or the other," he parped. "If it involves me, I will be delighted but I was given a short-term contract to come and do a job and that's what I've done." The tension is entirely bearable.
And Tranmere Rovers are back, baby. "We've suffered, people have lost their jobs and to get the club back into the league is an unbelievably proud moment for me," cheered Micky Mellon after their preposterous win over Boreham Wood.
STILL WANT MORE?
It's end-of-season gongs day! Deep breath … player of the season, manager of the season, goal of the season, match of the season, young player of the season, signing of the season, gripe of the season, flop of the season, pundit of the season and innovations we need.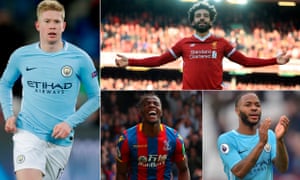 The Old Lady has no plans to abdicate, writes Paolo Bandini, but perhaps she can have a word with whichever of her minions came up with the "My7h" T-shirts the players were given after winning the Scudetto and next year's inevitable 8hite.
Flares raining down, plumes of smoke and police all over the pitch: Andy Brassell on a spicy end to an iffy Bundesliga season.
Sid on Seville.
As someone who claims to have been a goalkeeper at "a reasonably high level", Sean Ingle reckons they ought to be valued more highly.
Nick Miller had a crack at previewing the second leg of Fulham's play-off defeat but got caught up pondering Ryan Sessegnon's tattoos by mistake.
Oh, and if it's your thing … you can follow Big Website on Big Social FaceSpace. And INSTACHAT, TOO!
LAST LINE
https://www.theguardian.com/uk/sport/rss