The latest Brexit uncertainties have sent the pound to its lowest levels of the day.
Against the dollar it is down around 0.7% at $1.3146 while against the euro it has fallen 0.43% to €1.1245.
Over in New York, Goldman Sachs has confirmed that Lloyd Blankfein will step down as chairman and chief executive, the positions he has held since 2006.
He will be replaced in both roles by co-chief operating officer David Solomon, who has a sideline as DJ D-Sol, spinning dance music at nightclubs.
Meanwhile Goldman reported a better than expected 44% in second quarter net income, boosted by good performances in investment banking and bond trading.
Bank of England governor Mark Carney has said a no-deal Brexit would have big economic consequences and prompt a review of interest rates, as well as leaving many bankers idle, reports Reuters:
"Our job is to make sure we are as prepared as possible," Carney told lawmakers at a parliamentary hearing held at an air show in Farnborough, southern England.

Crashing out would prompt the BoE's monetary policy committee to reassess the economic outlook and interest rates.

"It would be a material event. I wouldn't prejudge in which direction, though," Carney said.

"Speaking very narrowly about the financial services side, in the event of a no-deal scenario… there would be big economic consequences. We might have a lot of idle bankers as there is not a lot of demand for their services," Carney said.

Lenders, insurers and asset managers in Britain are playing safe and opening new EU hubs by March to maintain links with customers there irrespective of whether a transition deal of generous future trading terms are secured.

But they worry that without a transition deal, existing cross-border contracts such as derivatives and insurance policies would be disrupted, leaving consumers unable to make claims or companies not covered against adverse moves in currencies or borrowing costs.

Britain has said it will legislate to ensure "continuity" in contracts and that the EU must reciprocate, but the bloc says it was up to banks and not public authorities to get ready.

"Yes, we are concerned that the EU has not yet indicated its solution. The private sector cannot solve these issues," Carney said.

"This is fundamentally about taking responsibility to protect the financial system… It's cold comfort, but it will be worse in Euorpe than it is here."

Britain's banks, however, hold enough capital and cash reserves to withstand a disorderly Brexit, Carney said…

Carney said it was too soon to judge what the government's [Brexit] proposals meant for financial services or for the BoE's ability to take all decisions necessary to keep the financial system and banks stable.

"It's premature for us to make a judgement on the White Paper and the outcome of these negotiations. It's also not clear which activities are going to be in scope," Carney said.

The White Paper was a "first step" in a hugely important negotiation, he added.
Here's our story on the day's UK data:
The rate of pay growth for British workers has fallen to the lowest level in six months, despite record numbers of people in work across the country, official figures show.

Heaping renewed pressure on the Bank of England to delay raising interest rates from as early as August, the latest snapshot for the British labour market showed workers are still unable to demand higher pay despite the lowest unemployment levels since the mid-1970s. High rates of employment and low levels of unemployment usually signal rising wages.

The Office for National Statistics said average weekly earnings rose by 2.5% on the year in the three months to May, slowing down from the previous three months when they grew by 2.6%. Pay growth excluding bonuses also slowed by a similar amount to 2.7%.

There have been signs of recovery in the British economy that could tempt the Bank to raise interest rates from as early as next month to counter persistently high levels of inflation since the EU referendum two years ago. Having shuddered to a standstill during the freezing weather earlier this year, the economy rebounded in May thanks to warmer weather and the royal wedding. The Bank has previously said it would raise rates should the economy continue to improve.
The full report is here:
The pound is now virtually flat against the dollar, and the FTSE 100 has dipped just 0.15% in the wake of the latest UK data. Connor Campbell, financial analyst at Spreadex, said:



The UK jobs report failed to move the needle on Tuesday, with investors seemingly waiting for Wednesday's inflation reading before making a call on what the Bank of England might do in August.

For the quarter to the end of May wage growth including bonuses came in at 2.5%, down on the 2.6% seen for the previous 3 months; remove bonuses and wages still saw a similar decline, from 2.8% to 2.7%. Though a smidge higher than the 2.4% inflation reading seen for the same period, real wages are hardly healthy at the moment, especially with the UK CPI set to jump back to 2.6% in June.

So, not the most hawkish news, if not particularly dovish either, leaving the pound without much reason to rebound on Tuesday…

With Brent Crude slipping 0.7%, and BP shedding another half a percent, there was little reason for the FTSE to move higher as the day went on, the UK index keeping the wrong side of 7600.
Elsewhere the UK Office for Budget Responsibility has warned on the state of the country's finances. Reuters reports:
Britain's budget watchdog on Tuesday outlined a gloomier picture for the government's finances in the long term, reflecting recent pledges to increase health spending without tax hikes or spending cuts to pay for it.

The Office for Budget Responsibility (OBR) stuck to its view that the public finances are likely to come under significant pressure from an aging population.

"The long-term outlook for the public finances is less favourable than at the time of our last (fiscal sustainability report) in January 2017," the OBR said in its report.

This was "more than explained" by the government's health spending announcement in June.

Last month Prime Minister Theresa May announced a 4 billion pound ($5.3 billion) boost for the National Health Services, to be funded in part by a "Brexit dividend" that the Institute for Fiscal Studies says does not exist.

Finance minister Philip Hammond has indicated that taxpayers will need to foot some of the bill.
The OBR also looks at falling immigration:
Even if the Bank of England does raise rates in August, the Brexit uncertainty casts some doubt on further increases, reckons economist James Smith at ING Bank:



For the Bank of England, rising wage growth is a key pillar of its rate hike rationale. So at face value, the latest slip in average earnings (ex bonuses) to 2.7% may appear disappointing.

However, it's worth noting that, like last month's fall, this is mainly a function of base effects. Wage growth was particularly weak in early 2017, but began to recover from the second quarter – meaning the year-on-year growth rates are beginning to ease. Admittedly the recent momentum has slipped a little too. But with Bank of England Agents still pointing to skill shortages resulting in more rapid pay increases, we doubt the recent figures will lead to any kind of rethink amongst the committee on the overall trend for wages.

With employment growth also reasonably solid, Tuesday's jobs report gives the Bank another green light to hike in August. We doubt the few remaining data points between now and the next meeting will do much to change this. And even though the political scene has become particularly noisy, the Parliamentary recess that's due to start in a matter of days should (in theory) create a brief period of calm, giving the Bank enough cover to hike in August.

However, when it comes to Brexit, the bigger headache for the Bank of England could come beyond August. With the EU likely to remain resistant to the UK's latest proposals, the perceived risk of a "no deal" could feasibly increase (even if the actual probability of this happening remains low in our view).

If Brexit uncertainty picks up as time starts to run out, we think the Bank could have a tricky time hiking rates later this year. After an August hike, our current expectation is that the BoE remains on hold until May 2019.
On interest rates, Bank of England governor Mark Carney said at Farnborough a no-deal Brexit would be a material event for borrowing costs. Reuters reports:
Bank of England Governor Mark Carney said on Tuesday it would be a "material event" for interest rates if Britain leaves the European Union next year without a deal to smooth its departure.

"Our job is to make sure we are as prepared as possible," Carney told lawmakers at a parliamentary hearing held at an air show in Farnborough, southern England.

Carney said he could not predict which direction rates would move in the event of a no-deal Brexit. It was too soon to judge the government's proposals for Brexit published earlier this month, Carney said.

"I am stopping short of saying it's all there [in the Brexit white paper]," he said.
Carney also said that after Brexit, the Bank needed to retain its ability to regulate banks to maintain financial stability.
With the slip in wage growth to 2.5%, any increase in inflation tomorrow could see real incomes squeezed again. Analysts are forecasting inflation could rise from 2.4% to 2.6%. Ed Monk, associate director for Personal Investing at Fidelity International said:



While today's figures may put wage growth above last month's CPI inflation reading for May, any reason for British households to cheer could be short lived as there is a possibility that we could see inflation jump back up and over take wage growth when June's CPI figure is released tomorrow.

If inflation does jump back up after this weakening in pay growth, then it adds to the conundrum for the Bank of England's Monetary Policy Committee who are desperate to deliver a rate hike in August's MPC meeting. Higher inflation would support that position but an absence of sustained real wage growth as well as ongoing fears about the impact that Brexit will have on the UK economy means that we could see the 'unreliable boyfriend' make an appearance again if Mark Carney and the central bank is forced to make another U-turn come August.
At the Treasury committee meeting, Bank of England governor Mark Carney says he is concerned the European Union has not yet indicated its solution to continuity in derivatives contracts after Brexit.
He said that a no-deal Brexit would have big economic consequences. But he said it was possible that an increase in financial services business from emerging markets could make up for any loss of EU activity.
And he believed the UK banking sector was appropriately capitalised even for a disorderly Brexit.
(Courtesy Reuters)
They have given up trying to stream the Treasury Select committee from Farnborough:
Not everyone believes an August rate rise is a done deal, however. Ben Brettell, senior economist at Hargreaves Lansdown, says:



Today's numbers showed wage growth dipped slightly in the three months to May, to 2.7% excluding bonuses and 2.5% including them. Unemployment held steady at an ultra-low 4.2%, but the claimant count – the number of people claiming out-of-work benefits rose unexpectedly by almost 8,000. In a quirk of the data this number is a month more recent than the rest of the report, so could spell tougher times ahead.

Both sterling and the FTSE were little changed after the data was released.

All in all these numbers don't alter the economic picture of anaemic growth, a relatively tight labour market and under-control inflation. Markets are still expecting the Bank of England to raise interest rates in August. But given the increasingly uncertain climate I think there's a real chance policymakers will sit on their hands and wait for firmer signals the economy is on the right track before risking raising borrowing costs.
The jobs and wages figures will probably not deter the Bank of England from raising interest rates in August, says Jeremy Thomson-Cook, chief economist at WorldFirst:



At least one part of the UK economy is showing strength with employment hitting fresh 47 year highs in May. Slowing wage growth is unlikely to shade expectations that the Bank of England will raise interest rates on August 2nd although tomorrow's inflation numbers are expected to show that the real wage gains that consumers have been receiving for a few months now may peter out soon courtesy of higher oil prices and a weaker pound.
Here is a chart showing the slip in wages growth: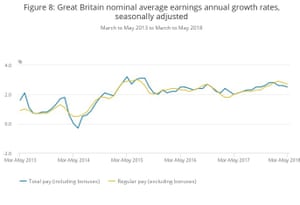 And the increase in employment: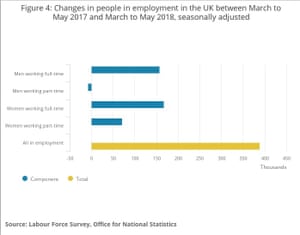 And the unemployment rate: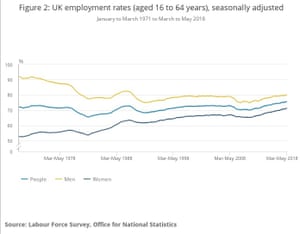 While the stream is down from Farnborough, over to the day's big UK data release.
Wages growth slipped to its weakest level in six months, rising by 2.5% in the three months to May compared to a 2.6% increase in the previous three months. Pay excluding bonuses came in at 2.7%. These were in line with analyst forecasts, and are above the inflation rate of 2.4%.
The unemployment rate remained at 4.2%, while 137,000 jobs were created over the three months to May.
https://www.theguardian.com/uk-news/rss